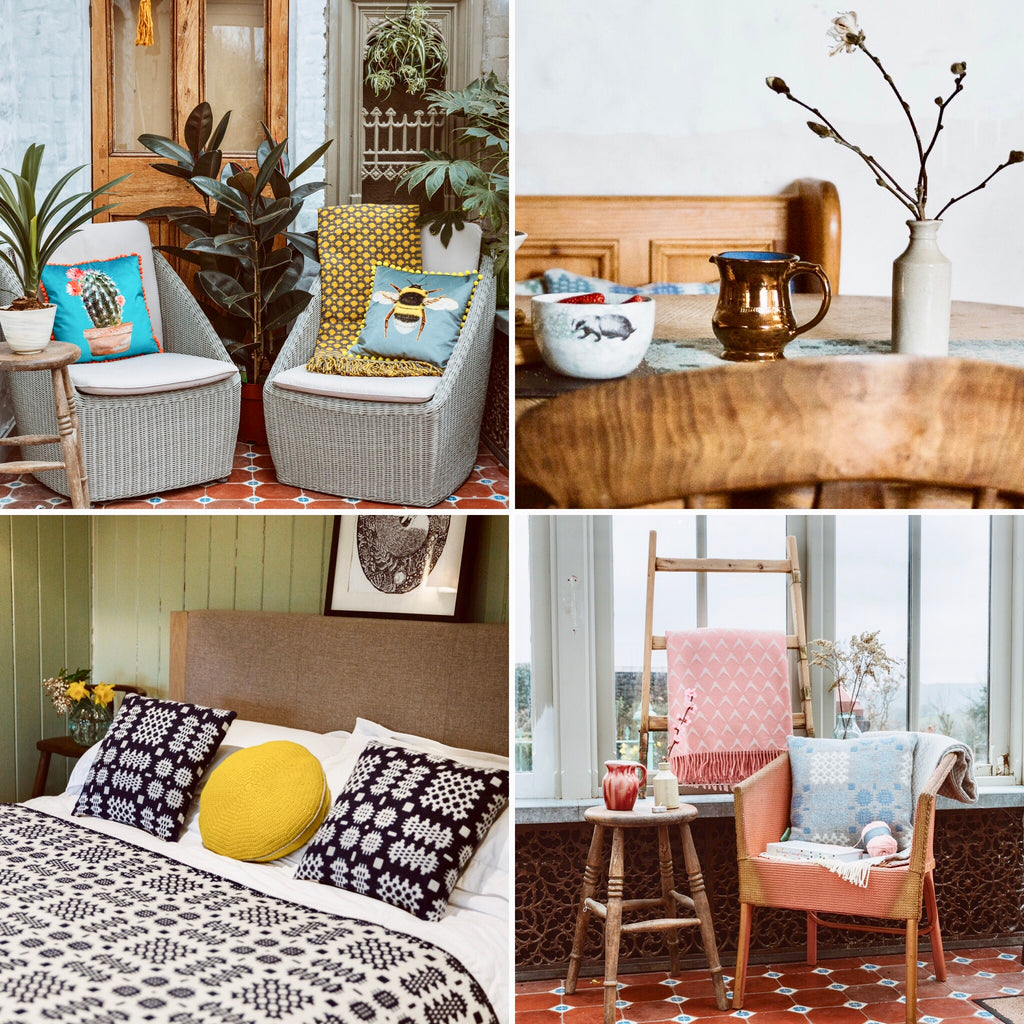 As the newness and beauty of spring unfurls outside – my house is beginning to lag behind. It all still looks a bit winterised and to be honest, after six months of a fair amount of indoor hibernation, – it's time for a a bit of freshening up
2019 brings some new trends and the reenergising of some familiar ones. Here are some of our favourites trends for moving your house happily into 2019:  Ps. We have well and truly 'Welsh Ottered' some of these (with a heavy dose of Welsh design influence), let us know what you think!!
Trend One:
 

'Tropical'

This is one from Living Etc., but how about the Welsh Otter version: 'Celtic tropics'!

Did you know that Wales is home to it's very own type of rainforest, the 'temperate' or Celtic rainforests of North and Mid-Wales. These fantastic ancient places are filled with sessile oak, birch, ash and hazel, layered with moss, ferns and lichen, and criss-crossed by horizontal trunks, tumbling streams and waterfalls. This trend is about celebrating the beauty of nature, and bringing the woodlands inside.  Think soft botanicals, nature imagery, fern-inspired colours tones, lush plants – basically honouring our fabulous wildernesses!  

 
 Try:
Trend Two:  Pale pink & baby hues
Elle Decor are all over pale pink colourways this season. The Welsh Otter interpretation is 'Baby hues'.
A soft spring palette of pastel pinks and blues in blankets, ceramics and furnishings is a lovely way to lighten a colour scheme and inject some freshness. Baby pink can look smart and sophisticated paired with a soft grey or a pastel blue- think soft spring sunsets where pinks gentle fade in to blues.
Soft baby blues have a calming undertone of mistiness, haze and moodiness that we love.
A mix of pink tones (from soft blush to bright fushia, and of course Pantone's colour of the year 2019 coral) and make a sophisticated and complex scheme that makes a room come alive. 
Try:
Trend Three:  Global Monochrome
This is about strong contrasting colours, bold geometric patterns, pops of colour, and a hint of tribal. To bring Welsh tapestry firmly into 2019, try a monochrome colourway (like our Nefi navy and white blanket) and add in a pop of colour of optimistic daffofil yellow, or a strong mustard. These strong patterns and prints with big motifs can really make a statement in a bedroom. Combine with complementary patterns and toning hues for a balanced scheme. Modern heritage!
Try:
Beautiful Solva Woolen Mill floor rugs - https://www.solvawoollenmill.co.uk/woollen-floor-rugs 
Trend Four: Sustainable design
Elle Décor talks about "people needing grounding elements in their homes as a way to feel more in touch with the earth and their roots." — Kristen Peña, in Elle Décor.  We couldn't agree more.  And what is more grounding than something made locally in Wales, with sustainable local materials.  I'm so often drawn to handmade textiles and ceramics – we look for uniqueness, tactileness, and craftsmanship when we are selecting things for Welsh Otter.
It's about bringing back traditional craftsmanship, natural materials like slate, wool, wood and clay, and looking for opportunities to recycle and reuse objects in our homes.  Wool is at the centre of Welsh design and it is a planet-friendly fibre due to its long lifespan, ease of recycling, ability to biodegrade, and is a natural carbon 'store' (50% of wool is pure organic carbon converted to wool by sheep).  Basically we need more in our homes!
"There's plenty of quality in the old crafts. The ambition isn't to keep an artisanal technique alive just for the sake of it; they're simply of such high quality that we think it would be a shame not to bring them back," says designer Christian Dyrman.
Try: