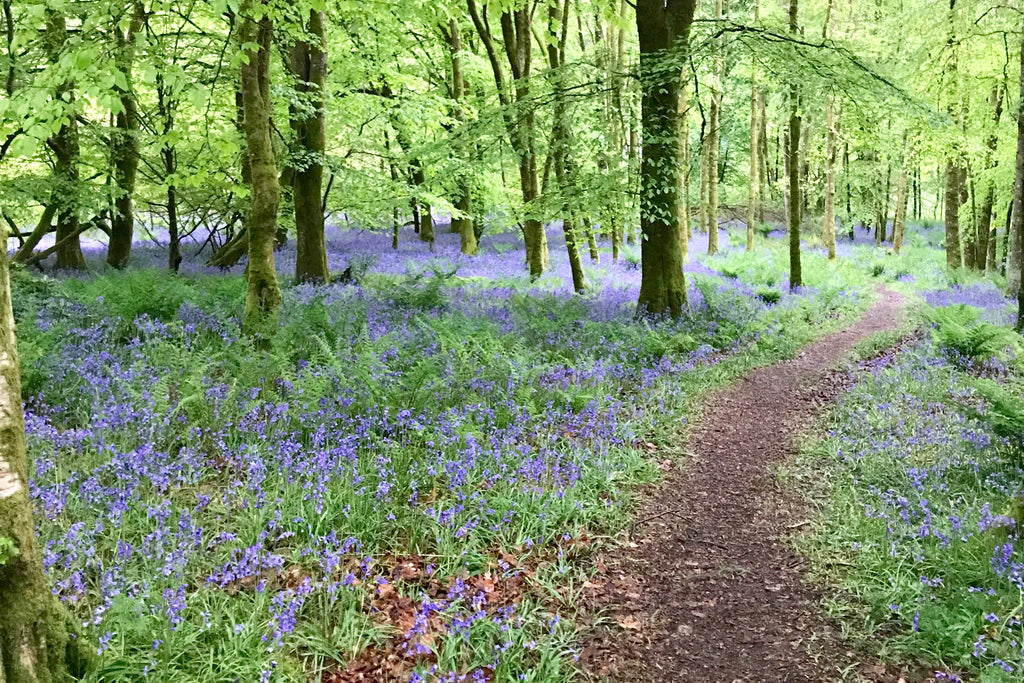 Any day now the bluebells of Wales will be at their peak. And this year they have coincided with the Easter holidays – creating even more opportunities to explore and enjoy the fleeting shades of blue. But after a good long woodland walk, sustenance is needed. So we've singled out our favourite bluebell walks across Wales with a good pub nearby for well deserved rest and relaxation afterwards.
Castle woods, Llandeilo, Carmarthenshire
The National Trust Dinefwr Park is on the outskirts of Llandeilo. Head to the ancient Castle Woods through which you can reach the medieval Dinefwr castle at the top of the hill. Retrace the steps of the princes of Deheubarth, and enjoy the sight and smells of amazing bluebells that carpet these woods dramatically. Over Easter, time your visit to see the medieval white cattle of Dinefwr return to their outdoor pastures on the 15th of April (a big marker of official summer time in Llandeilo!). Families can enjoy Easter egg hunts and tractor rides at various times throughout the Easter period. 
Post-walk refreshments:  A short walk (or a very short drive), takes you into Llandeilo where you can have a cosy meal or a drink at the Cawdor Hotel – either in the snug bar or if weather permits in the secluded courtyard for al fresco seating, which could have been taken straight out of Mexico with its palms and vibrantly painted walls. http://www.thecawdor.com
Green Castle Woods, Near Carmarthen, Carmarthenshire
Head south from Carmarthen and you pass down winding country roads until you catch a glimpse of blue that is the Tywi estuary, and the sea beyond. Just off this road, and managed by the Woodlands Trust, is Green Castle Woods – a mix of ancient oak and newly created woodlands, botanically rich meadows and hedgerows. The whole wood is criss-crossed by centuries-old hedges and walls, and sunken lanes. In spring there are carpets of bluebells, wild garlic and wood anemone. Enjoy the great views towards Carmarthen, the Tywi Valley, and across the estuary.
Post walk refreshments:  A short car ride south from the woods takes you into the pretty coastal village of Llansteffan, in the heart of Dylan Thomas's Wales. Inn at the Sticks is in the centre of the village and has been a pub since 1809, but has been recently transformed into a gastro delight. Food is ethically and locally sourced (think samphire, sewin (sea trout), and Welsh lamb). Decor is rustic and Welsh-farmhouse inspired.  Enjoy a roaring fire on chilly days and a terraced beer garden on warmer days. Perfect for recharging the batteries! 
Colby Woodland Garden, Amroth, Pembrokeshire
Another National Trust one, these gardens has been reclaimed from an old industrial area – coal used to be mined here in narrow seams (children were often used to pull the carts out of the pits), and transported to Saundersfoot. Now the valley has been spectacularly transformed into a stunning haven of trickling streams, wildflower meadows, a walled garden and lovely walks through bluebell woods. 
Post walk refreshements:  From Colby you can walk down the path to pop out on Amroth beach. Here is the Amroth Arms – right on the sea front, with a roaring fire if you are cold, or a small outdoor seating area overlooking the sea if the weather is fine. Further along, the popular Smuggler's Arms has a kids pirate themed indoor play area. Both perfect for re-energising with a drink or a pub meal.
Parc Mawr, Henryd, Conway
An ancient woodland dotted with impressive established trees. There is a fantastic display of bluebells and other spring flowers, and you can also enjoy panoramic views across the Conwy valley. 
Post walk refreshments:  Just down the road is the Groes Inn Hotel, which according to the Michelin's Eating Out in Pubs Guide is "A great location in the foothills of Snowdonia dating back to 1573, the pub offers tasty food and friendly, cheerful staff in a surrounding with bags of character".  A perfect place for an atmospheric refuelling.  Enjoy the lovely garden too if the weather is good. https://www.groesinn.com
Marl Hall Woods, Llandudno Junction, Conway
A delightful ancient woodland with stunning displays of rare and beautiful wild flowers in the spring, swathes of bluebells in April, and great views across the Conwy Valley. The woods are located on the edge of Llandudno Junction on the eastern side of the estuary opposite the mediaeval town of Conwy. It is said that the bright white of the site's cliffs was once used as a navigational aid for sailors entering the estuary.
Post walk refreshments:  For something different, try the Gwinllan Vineyard for vineyard tours and wine tasting packages from £15 https://gwinllanconwy.co.uk/.  If a pub is more what you are after – the Castle View is a short drive away with a raised terrace for breath-taking views of Conwy harbour and the famous medieval Conwy Castle.
Coed y Felin, Hendre, Flintshire
A small, but perfect ancient woodland, is carpeted with bluebells in spring. Old pathways criss-cross this woodland site, leaving clues to its long-held links with the local population. Its timber has been used to support the local mining village for centuries. The site of today is peaceful woodland and sunny grassland that are filled with colour and life.
Post walk refreshments:  Y Dderwen-The Oak is just down the road, with tasty home-cooked food, real ales, and a deck with stunning views of the Ceiriog Valley. 
Llanerchaeron, Ceredigion
This elegant Georgian villa, set in the wooded Aeron valley is now managed by the National Trust. The grounds are surrounded by bluebells and wild daffodils in the spring, and a circular walk to Aberaeron through the woods. There is an 18th century estate office which is set in a field of bluebells. Easter activities are on through the easter holidays, including lamb feeding!
Post walk refreshments:  If you fancy turning it into a longer stroll you can venture towards the coast along an easy flat walk to the smart seaside town of Aberaeron.  Here you can pick up some delicious Welsh food at fabulous Harbourmaster hotel (plus don't miss the cocktails!).  https://www.harbour-master.com
Coed Cefn, Crickhowell
Coed Cefn (known locally as the Bluebell Woods) is managed by the Woodland Trust - an ancient woodland with an iron age hillfort in the centre. Enjoy a circular woodland walk, with beautiful views out to the surrounding countryside, and fantastic displays of bluebells.
Post walk refreshments:  The Bear in Crickhowell is a short drive away, and according to Wales Online is "right up there among the cosiest, most welcoming pubs in the country". At over 500 years old, there is plenty of atmosphere to enjoy during a well-earned rest after your walk, with oak beams, wooden floors and open fires (or if the weather is fair, you can sit out in the beautiful gardens).  http://www.bearhotel.co.uk
This is just a short selection of some of the best bluebell walks in Wales - we would love to hear about your favourite near you!