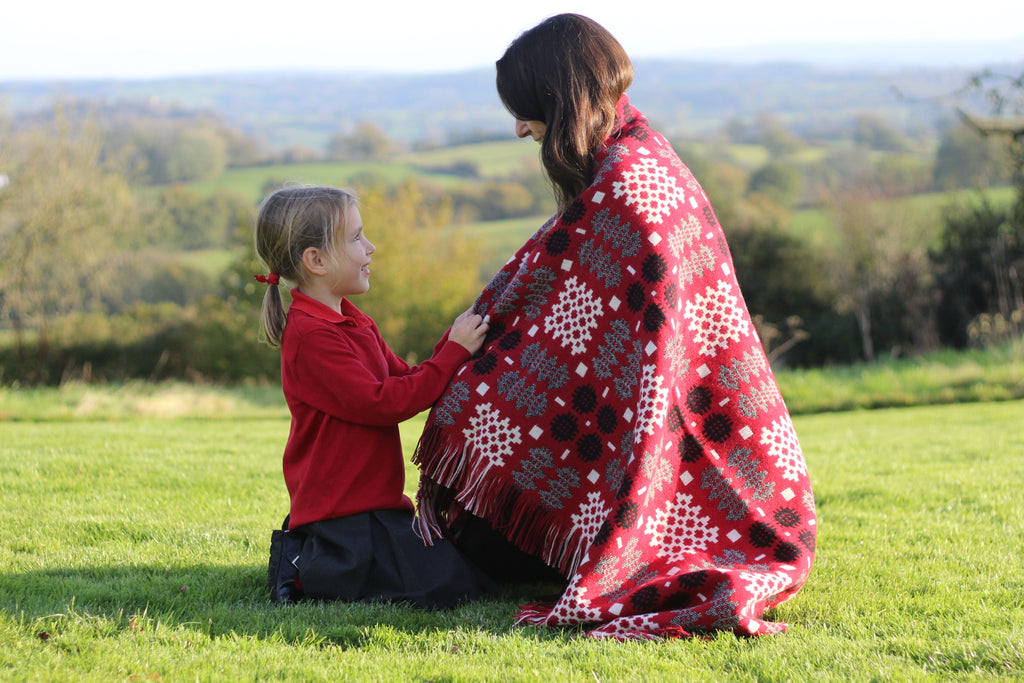 It was a year ago that Welsh Otter launched. In faithful family style, my brother was my first customer on day one, purchasing a beautiful grey merino blanket as a wedding gift for a Cardiff friend. This was swiftly followed by a flurry of other purchases from supportive family and friends as the website was tested, and then (gulp) my first 'proper' customer.  Since then we've been lucky enough to serve hundreds of new customers and supplied beautiful Welsh design to homes, offices, holiday homes, and even safari tents; and celebrated new babies, weddings, birthdays and anniversaries. It's been a joy to work with the beautiful Welsh artisan products that just sing for themselves, not to mention our fab customers and makers.
So what has my first year of Welsh Otter been like? Here are some very honest learnings and reflections from our first year running an online store, and as entrepreneurs......
Good suppliers are the backbone:
We are seriously lucky to have such wonderful and talented suppliers- the business would be nothing without well-made, authentic products and it is a dream to work with the makers that we do. As such we aim to make Welsh Otter a great store for others to work with, and to support our makers in expanding their reach and sharing their beautiful items with new audiences. 
Juggling is the new norm:
We have two young children, various projects on the go, and only 24 hours in the day. At the moment it is the two of us – me and my husband, but I absolutely love every ounce of effort I put into Welsh Otter – it is this motivation, love and belief in the business that has me up at 5am to head to a fair, or in a freezing cow shed at 11pm preparing the orders. My motto is: life is a juggle….so you might as well do this inevitable plate spinning with something that you love!  This year we will be taking on an employee to help as we grow, which is exciting.
Is curated the best?
One conundrum we have wrestled with has been the desire to create a handpicked, 'curated' collection to make it easy for my customers to shop, versus offering a vast choice to give more options to customers. We am still working on getting this balance right. I do think that in this world of excess we can offer a helpful service to customers with a refined selection of some of the most beautiful, useful, unusual items around. In a society of often too much choice this curation can be refreshing and valuable.
Managing cash flow:
Something that has been a challenge at times, is the amount of money that we need to plough back into the business, into stock purchases and investments. I am told this is typical of a new business in its first year and we hope to build the business this year through gradual and sustainable growth and sensible spending and stock choices.
Welsh language:
I am sadly not a native Welsh speaker, however both my children are at Welsh medium school and my husband and I are doing as much as we can to learn the language. I try to use Welsh on the website and social media when I can, not only because it is a beautiful language and I am kind of fascinated with it, but also because it is extremely relevant to my products and for many of my makers, and I want to reflect that. I have some very understanding Welsh speaking friends who help me to get things right, and as my competency increases I hope to use much more on the website. So Welsh language speakers - please do forgive any occasional mistakes!
Fun at the fair:
We did ten days of festivals in total last year – these were fabulous as I got to meet customers face to face, have conversations about our store and receive face to face feedback. Hopefully see you at many more this year! If anyone has any tips of good ones - let me know.
The mum test:
The aim is for beautiful, strong, environmentally friendly packaging. I think 'how would I send this to my Mum or my sister' and package it like that… I see this as an area that will continue to evolve with new ideas and innovation.
Our customers are lovely:
I'm always amazed by how supportive and wonderful my customers are – from sending pictures of their new Welsh Otter cushion in their living room, to liking, sharing and commenting on posts, to letting me know when their item has arrived.  Thank you for putting your trust in us and Welsh Otter and giving us a chance to shine this year. I hope you have enjoyed following our journey!
And this year?  Well that's for another blog post (if you have appetite for another one!) But our great desire is to carry on building the business sustainably this year, to reach new customers and support current ones, and to spread the great world of Welsh design as far and wide as we can!!!