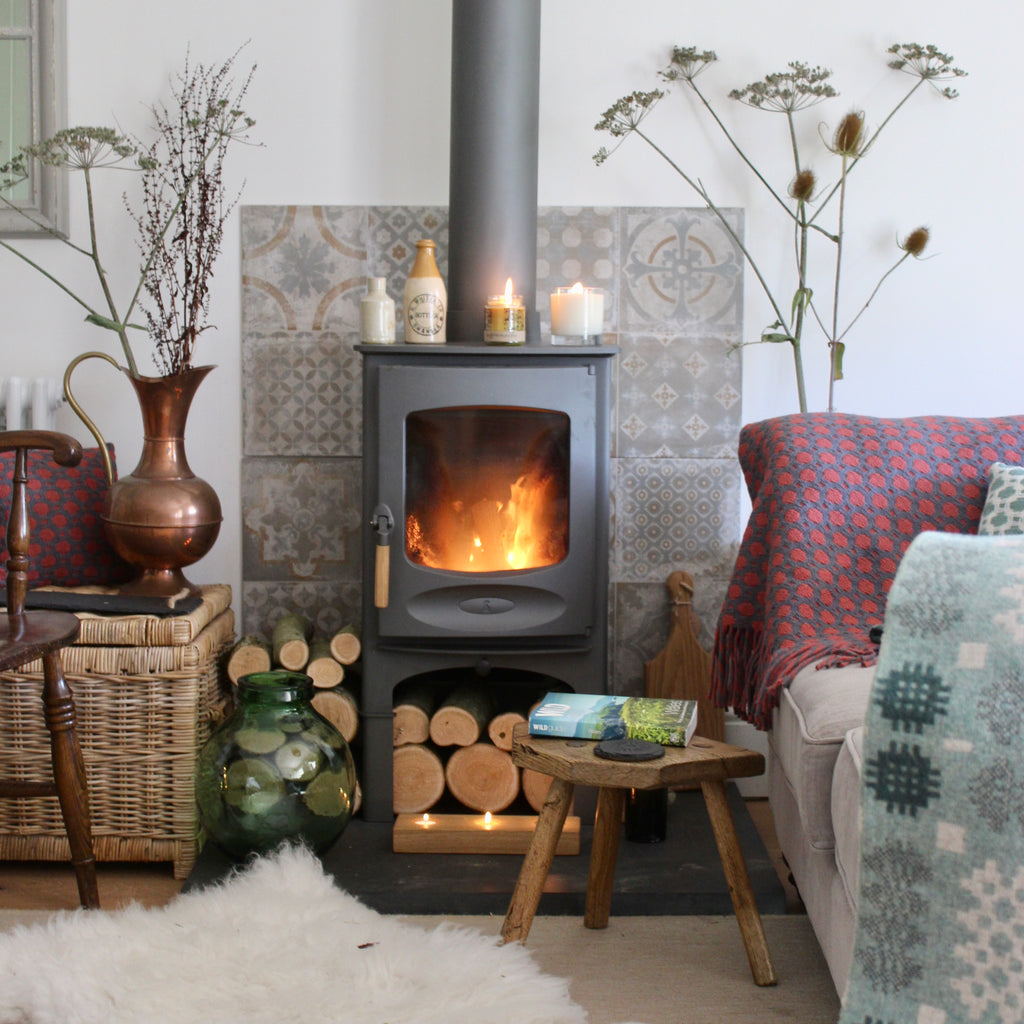 We are at that time of year aren't we – the eagerness to embrace the beautiful colours of autumn but the realisation that the weather is foul, evenings are drawing in, and rain is on the forecast. Well that is all ok! Because in Wales we can get through it by practicing what we have been doing expertly for centuries – the art of cwtch as the perfect antidote to dealing with the harshness of a long winter.
Forget Hygge – we take a look at the concept of 'cwtch' and how to create a Welsh-inspired cosy, snuggly winter interior. Cwtch is one of my favourite words, used frequently in Wales but not always fully appreciated in the rest of the UK.  Cwtch traditionally has two meanings, it can mean a hug, or a cosy corner under the stairs. 
Cwtch in the home can mean a number of things. It is about embracing the simple things. It's about natural and cosy materials. It is about togetherness- about cwtching up to someone. It is about how you feel - huddling somewhere warm on a cold day.
It's about arriving back home at twilight, hanging the cold up with your coat and embracing the glow of a fire.
It's a cold nose peeping from a warm Welsh blanket.
It's gathering on the settle of a low beamed pub with good friends.
It can be cold walks on a wild wind-swept beach followed by steaming cawl in your favourite bowl.
It's watching the autumn storms roll in across the sea from a snug window seat.
Or warm welsh cakes spread with dripping butter, and hot cocoa in cold hands. 
It's drinking from a handmade mug using both hands and feeling the lines and bumps made by the potter's fingers.
The Danes called it hygge, but in Wales we have been doing it for hundreds of years in our own way. Cwtch is not the new hygge – it is the original one!
So here's the Welsh Otter guide for how to get some Welsh-inspired cwtchness to your home:
Add layers and texture
Grab the opportunity to add texture, insulation, colour and cosiness by using blankets in your bed or living room- the more the better!  Adding a blanket is an inexpensive way to give tired rooms a refresh and add a cosy, luxurious feel.  Go outside your comfort zone and go with something bright and bold to add warmth to a room.  A simple cream sheepskin is one of those great interiors accessories that every home should have. They look particularly good slung casually over an armchair for extra cosiness, plus a dash of simple Welsh style. Wool is natural, sustainable and has an amazing insulation ability that has been used for hundreds of years.
Embrace the old customs
Traditionally, Welsh cottages would have been designed to enhance cosiness and warmth. This was not really a choice – it was a necessity to survive the cold winters. Cupboard beds ('Wains-cot') and settle benches with high backs were used to act as partitions and to keep out drafts. Thick walls kept rooms warm during winter months, and stayed cool in the summer. Rush lights (formed by soaking the dried pith of a rush plant in fat or grease) were economical ways of lighting up the long winters. In traditional long houses, cattle and sheep were brought in and kept at one end of the house so warmth could be retained and shared amongst the household (perhaps not one tradition that can be easily modernised today!)
Light up a candle:
Cwtch is about looking after yourself. Make a ritual of lighting candles to fend off the dark nights, what better way to keep off the winter blues?  There is no doubt that with the dark evenings a glowing, flickering candle, accompanied by a mug of cocoa and a cuddly blanket, is the cwtchy way of getting through. Be present in the moment and enjoy the simple things – adopting this mindset is key to triumphing over winter.
The warmth of a fire: 
There's something primitive and simply lovely about huddling around a fire (whether it's log, gas or electric) when it's chilly. A fire instantly brings a room to life, and bathes you and your interior in a warm glow. It also lends a central focus and atmosphere to rooms that might otherwise be lacking. A sleeping cat or dog in front of it helps too of course.
Mix in some metallics
Think Welsh vernacular copper kettles, pans and jugs. The glow bounces from the fire creating a beautiful warm tone to a room. Lustreware adds an edge of warm luxury, but also seems to fit with the colours and low light of the season. One or two copper jugs or plates can make a huge difference to rooms.
Copper tones also go beautifully with a neutral palette of greys, whites and beiges, which so many of us have in our rooms these days.
Thank you for reading. For more Welsh interior inspiration browse our range of textiles, cushions and ceramics on www.welshotter.co.uk.