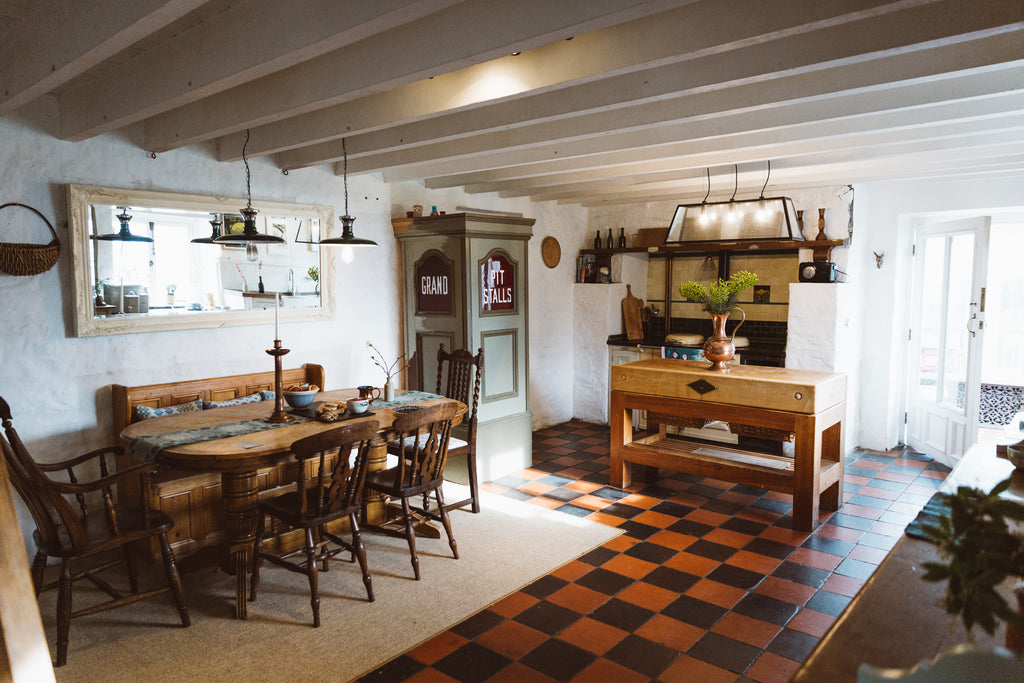 Our six statement pieces in Welsh design
What is Welsh design and how do you achieve the look in your home? We explore the key elements of the style; looking at the statement pieces that define Wales' design heritage, and how they can be used to create a modern Welsh interior.
Whether you call it 'Welsh Hygge' or 'Welsh Scandi' - here are our six key tips to achieving a touch of Welsh design in your own home.
1.  Bring in a touch of Welsh tapestry
https://welshotter.co.uk/collections/welsh-tapestry 
To most of us, Welsh interiors means the archetypal Welsh tapestry blanket. Made with wool from sheep that have grazed wild winters and wondrous summers here for centuries, most Welsh homes have at least one – often a treasured wedding gift or heirloom. Popular in the 18th and 19th centuries, and revived in the 1960s and 1970s – their regional patterns are revered and their bright splashes of colour sent from heaven to cheer up rainy days. 
Welsh Otter tapestry designs are woven on historic looms using the traditional double cloth construction, in a small mill by a stream in rural Carmarthenshire - and their longevity and craftsmanship shine through.  
Why not take your favourite tapestry colour and design and plan an interior around it? Modern tapestries take gentle blends of soft greys, pale blue and neutral hues for an easy to style look - just compliment with cushions, rugs and curtains in tonal shades. 
And you don't have to limit yourself to blankets – throws, table runners, upholstery and cushions can all be used to add a hint of Wales to any room.      
2.  Natural textures are key to Welsh design
Traditional Welsh interiors are furnished with objects created from natural materials, collected locally.  Bringing natural textures and material inside intimately connects a house to the wider landscape around it.  Think slate, oak, stone – in flooring, furniture, decorative pieces and everyday objects.  Antique, salvaged or modern pieces will work but the choice of material is absolutely key. 
We adore natural Welsh willow baskets and they add warmth and texture to a room. Each region and county in Wales has its own design, and a small handful of makers continuing the tradition. Willow grows in abundance in Wales – damp lowland conditions are ideal - and it can put on 1-2 metres growth a year so it's always in good supply. 
Choose a basket that shows off its handmade qualities, or variety in colour like this Myddfai Rope Coil Basket made by Justine at West Wales Willow.
Welsh willow basket. Photo courtesy of West Wales Willows
3. Go for dark, wooden furniture
Traditionally made by village carpenters or craftsmen from timber collected in the hedgerows and woodlands, rustic Welsh furniture looks completely at home in a simple whitewashed room. The dark wood looks best when contrasted with pale and bright walls, which are particularly helpful to lighten up a room with small cottage windows.
Welsh stick chairs have a unique character and intimate connection with place.  Styles vary from region to region, but the basic design, a vernacular style of Windsor chair, has remained the same since the medieval period. 
Photo:  St Fagan's Museum Cardiff
Curved  arms, usually of ash, are held in to the seat by spindles, with legs splayed out to ground and balance the chair.  Stick chairs may be high or low backed, and are a work of art in themselves, each with a story to tell. Hunt them down in antiques centres, or commission your own from a specialist chairmaker. The definitive guide to Welsh stick chairs, including method and making, is by 'the anarchist woodworker' - revivalist and teacher John Brown, reprinted 2009. 
4.  It's all about the dresser...
A staple of the Welsh interior, the Welsh dresser is both practical and beautiful - the original fitted kitchen way before they were invented.
Vintage Welsh dressers can be bought from a few hundred pounds to several thousand for an outstanding example like this one on sale with Welsh Vernacular Antiques - a 19th century dresser from North Wales with stunning rich colours and aged surfaces, and finely detailed inlays formed in holly, mahogany and bog oak.  It's one of the finest examples this family antiques centre has seen, and we're not surprised!  We want it!   
Contemporary dressers in less precious woods can be painted for a lighter look, particularly if your kitchen is dark. This one below has been modernised with soft-close drawer runners and an inbuilt music speaker. You can also pick up smaller dressers for tight spaces. But whatever style or size  - the dresser should be the centrepiece of a Welsh kitchen and used to show off your Welsh pottery and vintage items.
5.  The centre of the room is the hearth
Is there anything more evocative of the Welsh countryside than the smell of wood smoke drifting through a hillside village?  The hearth traditionally is the centre of Welsh life – from story telling to singing, to fireside crafts.
Be it open fire, wood burner, range oven, or a simple area for candles - bring the warmth of a hearth area into  the centre of your home and make the time to enjoy it.
Traditional fireplaces in Wales range from simple stone openings, perhaps with a bread oven or metal pot holder, to imposing carved pieces and pretty cast-iron tiled Victorian and Edwardian surrounds. 
Fireplaces are widely available in architectural salvage yards (try Gallops in picturesque Crickhowell) and antique centres. Decorate with accents of copper and brass to catch the reflection of the glow. 
6.  Go for it with pottery
There is no shortage of pottery – historic and modern, in Wales – and these are some of our absolute favourite objects of desire. We love Welsh pottery in all its guises – from traditional Ewenny, the oldest established potter in Wales, to modern styles and makers – and designs that feature nature are our absolute go-tos for creating true Welsh interior design inspiration.       
Vintage Ewenny Candlestick
Our own Welsh Otter designs are handmade in Carmarthenshire and often feature patterns inspired by nature – such as our popular Pysgod Jug (meaning fish), and our beautiful green-glazed Cow Parsley range. Pottery that is handthrown and hand decorated is tactile to the touch - we think it just feels different to factory made.
Another local pottery - the fantastic James and Tilla Waters have their studio deep in the countryside, and produce outstanding modern designs. The subtle mid-century hues and simple decorative forms would sit perfectly well as a work of art in a modern Welsh interior; and you know you're in good company as their designs have recently been acquired for display by the V&A Museum.