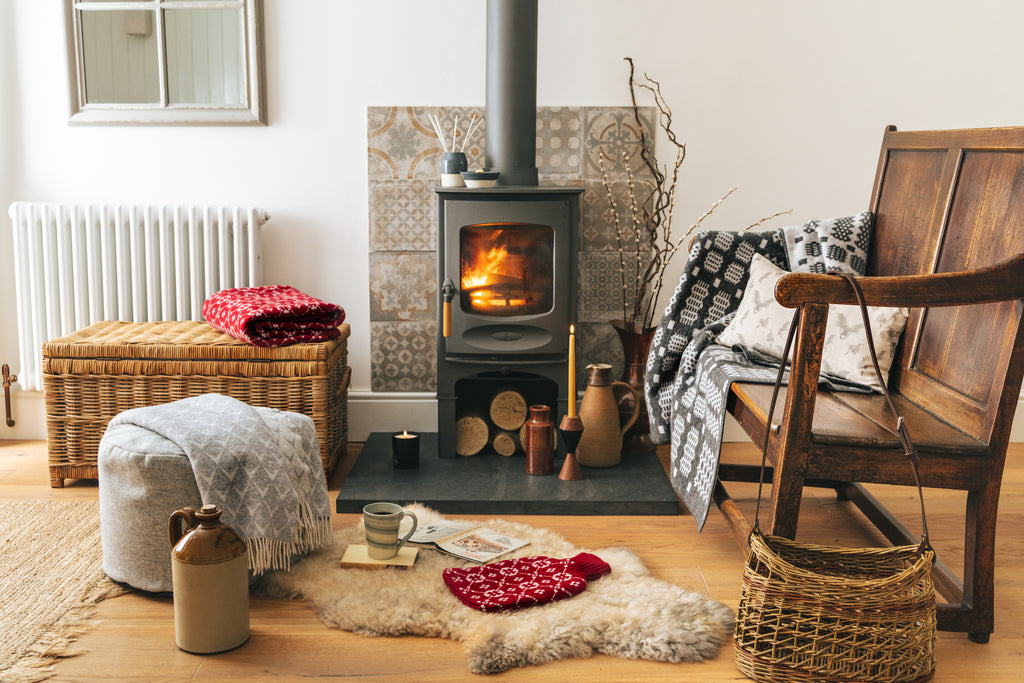 What is Welsh Scandi and how do you achieve the look in your home? We explore the key elements of the style; and how to a create an interior that incorporates this gorgeous look.
What is Welsh Scandi?
Welsh Scandi is the combination of rustic, cosy Welsh interiors with clean, simple Scandinavian modern functionality. This blend perfectly modernises a traditional farmhouse or cottage interior style, creating a relaxed, snug feel. It is about taking inspiration from nature, using natural materials, experimenting with textures, and adding a hint of vintage or heritage pieces.
Traditional Welsh interiors have evolved over the centuries to be warm and comforting – the perfect anecdote to dealing with the harshness of a long Atlantic-winter. Similar to the Danish concept of 'hygge' – it is about creating a warm atmosphere through your surroundings; Welsh interiors incorporate a large dose of 'cwtsh' (or cwtch) feel – the wonderful Welsh word meaning a sense of cosiness and togetherness.
The Scandi aspect adds a modern aspect and a clean, paired back look, with simple lines and an avoidance of over-clutter. It keeps the look up to date and fresh.
How to do Welsh Scandi interior design
Here's the comprehensive Welsh Otter guide for how to embrace Welsh Scandi: Our seven tips to achieving a touch of Welsh design in your own home:
Natural local materials are the foundation: Welsh Scandi interiors are furnished with objects created from natural materials, collected locally where possible. Bringing natural textures and material inside intimately connects a house to the wider landscape around it. Think slate, oak, stone – in flooring, furniture, decorative pieces and everyday objects. Natural flagstones or quarry tiles on the floor, lime wash on the walls, rush matting and sheepskin on the floor. It does not need to cost a fortune - antique, salvaged or modern pieces will work but the choice of material is absolutely key. By nature, these materials are should be eco-friendly and as sustainable as possible.
Go for a muted colour palette (mostly!): Select something paired down, generally white or neutral as the base colour. If you can, textured walls work well (think white washed stone walls, or wallpapers). Other gentle netural colour layers can be added (duck eggs, linens, pale greens, soft greys or beiges). Warm timber can be introduced (either dark or natural). A contrast of black adds drama (think a antique dark wood stick chair), and pops of colour can be added for layer and interest in artwork and accessories. The key is to encourage natural light to reflect as much as possible using lighter colours on the bulk of the surfaces. The dark wood looks best when contrasted with pale and bright walls, which are particularly helpful to lighten up a room with small cottage windows.
Keep it simple and practical: For the Scandinavians, simplicity is key. Likewise in traditional Welsh homes – all objects would have a place, purpose and reason for being. The Welsh dresser is the ultimate example of a functional piece – designed with usability in mind (the original fitted kitchen!) but using good workmanship - the design and aesthetic is equally important. Use clean lines and simple shapes to great the best effect; and often the space between objects is just as important.
Bring in woollen fabrics: Grab the opportunity to add texture, warmth, colour and cosiness by using traditional blankets in your bed or living room- the more the better!  Adding a blanket is an inexpensive way to give tired rooms a refresh and add a cosy, luxurious feel.  Go outside your comfort zone and go with something bright and bold to add interest to a room.  A simple cream sheepskin is one of those great interiors accessories that every home should have. They look particularly good slung casually over an armchair for extra cosiness, plus a dash of simple Welsh style. Wool is natural, sustainable and has an amazing insulation ability that has been used for hundreds of years. Shop our range of Welsh textiles here.
Embrace craftsmanship: Welsh Scandi interiors value traditional crafts and high quality hand-made pieces. Originally made by village carpenters or craftsmen from timber collected in the hedgerows and woodlands, rustic Welsh furniture looks completely at home in a simple whitewashed room. For example, Welsh stick chairs with their simple construction have a unique character and intimate connection with place.  This is not about being overly ornate or fussy; but focused on the materials and skill involved. Other beautiful pieces made from willow, clay or slate add to the look.
Add some cwtsh: It is not about being harsh and cold. Add a sense of cosiness and togetherness (vital for surviving the harsh winter) through warmer textures and colours. The hearth traditionally is the centre of Welsh life – from story telling to singing, to fireside crafts. Make a fireplace area the focal point for a room - be it open fire, wood burner, range oven, or a simple area for candles. Bring the warmth of a hearth area into the centre of your home and make the time to enjoy it. Blankets can be rumpled, beds unmade, cushions a little scattered, and cosy soft chairs ready to fall into.
Mix old with new: There is something lovely about mixing carefully chosen antique or vintage pieces with modern items. It creates a room that looks like it has evolved over many years, and is also a pratcial choice if you wish to incorporate inherited items or pieces with sentimental importance, bringing a sense of nostalgia. One cost-effective way of doing this is adding Welsh pottery from traditional studios e.g. Ewenny (the oldest established potter in Wales) or Creigiau (who make gorgeous lustre items) and mix with modern studio pottery pieces, – it all works amazingly on an open shelf or window sill. Check out our monthly vintage drops jam packed with hand-picked antique and vintage treasures here (new releases every month so keep checking).
To shop our full range of vintage and Welsh designed pieces for the home, please visit www.welshotter.co.uk.