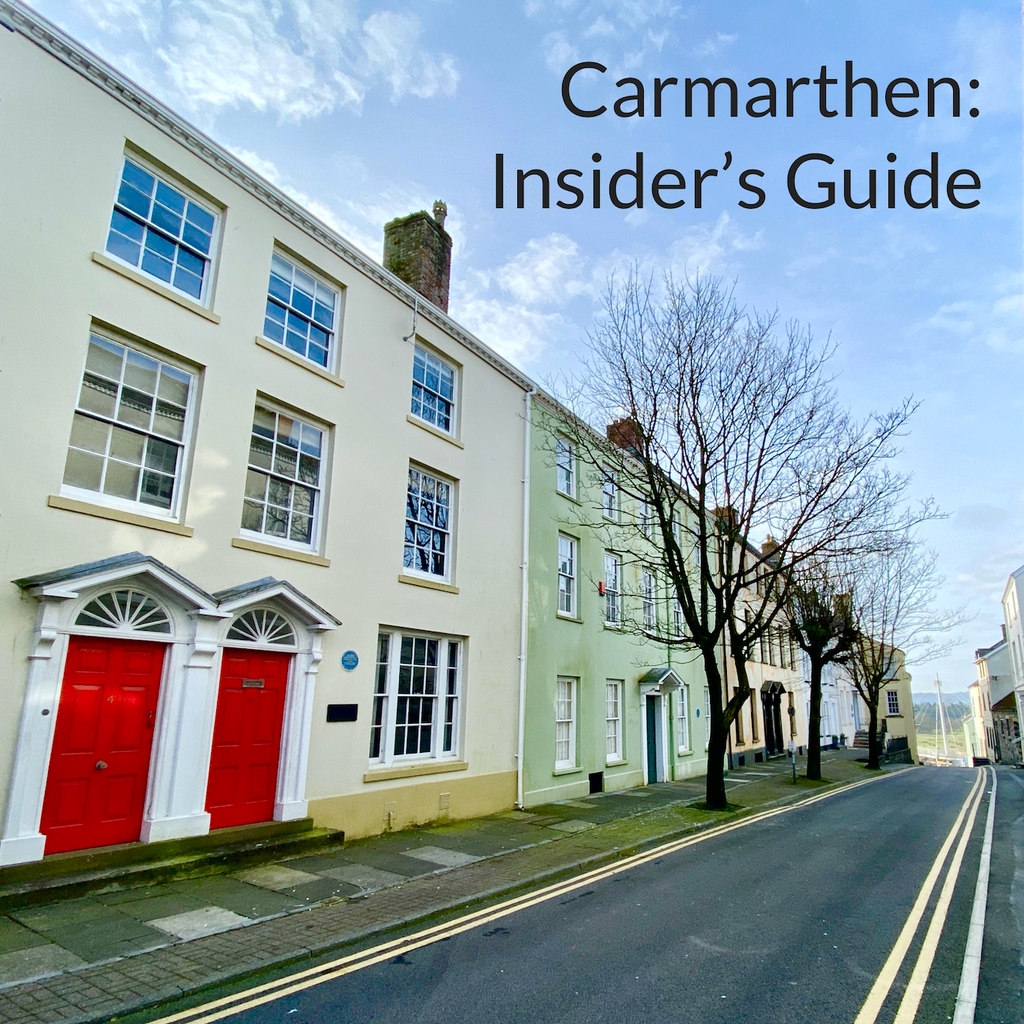 I have a lot of time for Carmarthen (Caerfyrddin). As county town of Carmarthenshire and one of the oldest towns in Wales; there is a sense of place and atmosphere here steeped in a multitude of history and layers.
It is not immediately spectacular like neighbouring cliff-topped Tenby, nor is it a tourist hotspot like Gower, or as approachable and quaint as Cardigan. Yet it has a quiet laid back charm, not overwhelmed by tourism or pretension. 
It has recently been in the media spotlight with the release of Sky Cinema's feel good flick 'Save the Cinema', starring Samantha Morton. The plot is based on the true story of how the perseverance and sheer doggedness of Carmarthenite Liz Evans saved the beloved Lyric Theatre from demolition back in 1993.
And the town still retains some of that spirit and tenacity today. Like many town centres across the country, Carmarthen has been buffeted by retail collapse and the effects of Covid-19. Key flagship stores have been lost (Debenhams, Top Shop and H&M to name but a few), and store vacancy rate runs at 17%. This could have been game over for the town, but the spirit and enterprising nature of the community and local businesses is shining through.
Like new shoots following a forest fire; local businesses are springing up in the space of the juggernauts (House by Betty, Y Sied and The Lighthouse are just some worth a mention). In the run up to Christmas, pop ups for local artisans and makers were made available in the shadows of the old Debenhams and TopShop, and the 800 year old Carmarthen Market is still a hub for traders. Social enterprises such as Xcel bowl (https://www.xcelbowl.co.uk), the Nuture Centre (https://www.nurturemagu.com) and Swperbox (https://swperbox.wales) are making a real difference.  
As the county motto purveys - "Rhyddid Gwerin Ffyniant Gwlad - The freedom of the people is the prosperity of the country" - and it might just be working. 
Lammas Street
Where is Carmarthen?
Nestled at the end of the fertile Tywi Valley, on the banks of a tidal estuary, Carmarthen was once an important port and strategic location for regional power in south west Wales. 
This is deep, wild Wales  – home, of course, to dragons, wizards, legend, heros and heroines. The town is surrounded by distinctive green conical hills that characterise the valley. One of these hills is in fact Merlin's Hill (Bryn Myrddin) and is said to house the great wizard himself in a cavern deep within. In fact the Welsh name for the town Caerfyrddin means 'Merlin's Fort'. So watch out for magic and enchantments!
You will hear Welsh spoken here (it has the fourth highest number of Welsh speakers in Wales at 42.9% of the population according to the 2011 Census), so make sure to give a shwmae. 
From the top of Merlin's Hill looking down the Tywi Valley 
History of Carmarthen
Spend a day in Carmarthen and there is an overwhelming sense of the past – of things buried and layers of time forgotten. An interesting higgledy-piddledy town centre layout is testament to that. Carmarthen is said to be the oldest town in Wales and was an important Roman sea fort (the remains of an amphitheatre are still visible). Before the growth of industrial South Wales to the East, Carmarthen was the most populous region in Wales and a really important industrial, political and religious centre.
The town has changed hands over the centuries between Romans, Welsh princes and Normans, at a dizzying rate. Owain Glyndŵr captured the castle in 1405. The last battle was the Civil War where the castle was taken by the Parliamentary forces. It then served as a County Gaol for many years.
Historical Carmarthen - Overwhelmed by its imposing castle
The town was the centre of a regional woollen industry in the 16th and 17th centuries, echos of which can still be seen today in local craft heritage and the names of surrounding farms and buildings. Prized for its navigable estuary, the steamers were still journeying to and from Bristol as late as the 1860s and ship building was a feature of the old town.
Carmarthen has seen some changes recently – S4C, the Welsh language television channel, now has its swanky new headquarters just outside of the centre; next door to the Trinity Universtiy campus. There are projects on the horizon such as the Tywi Cycle Track and the community hub scheme envisioned for the old Debenhams building. Carmarthen, on the great turning wheel of history, is on the come back. 
What to do in Carmarthen
1) Take a wander around the centre:  The centre is compact with a few distinct zones to it. Start in Notts square and take a stroll past the remains of the once formidable castle; its tall imposing walls rising above the river would have been the overwhelming feature of the town and of the landscape for miles. Walk down Quay Street and take in the view of the estuary from the pedestrian bridge - there is a foot path here along the quay that links up to the Welsh Coast Path. Walk back up Blue Street and take in the wide sweep of Lammas Street, then head up Mansel Street to the shops and Cinema of St Catherine's Walk.
The remains of Carmarthen Castle
2) Go shopping on historic King Street: A hub of independent and specialist shops. Our favourites are Blasus Delicatessen (filled with a wonder of Welsh cheese, meat and local yummy things); Mooch Etc for fabulous gifts and unusual finds, Oriel Myrddin or Oriel King Street Gallery for beautiful art and sculpture, Origin for local craft, and Pethau Bychain for interiors.  
King Street
3) Pick up an antique: Carmarthen has a healthy antiques trade. Top of our list are vintage Welsh blankets, pottery and stoneware. In the centre alone there are three antiques shops including the Old Curiosity and Found and Seek on King Street and St Marys Street Antiques. Carmarthen Antiques and Flea Market is one of the largest events of its kind held in Wales, taking place  at Carmarthen Showground. They are currently taking a break due to Coronavirus, but are definitely worth checking out if/when they restart.
4) Visit the market and pick up a picnic:  The current market building may have been built in 1981, but there has been a market in this part of Carmarthen for 300 years.  The market is an institution and a beloved part of the town. Pick up picnic provisions in the foodhall and check out the local delicacies. Check opening days here: http://www.carmarthenmarket.co.uk 
5) Grab your bike:  Carmarthenshire is becoming known as the cycling hub of Wales. And its not hard to see why: with its family cycle paths, country lanes, rolling hills and dramatic mountains - there is a cycle route for everyone!  The velodrome at Carmarthen park was the first in Wales, built in 1900. You can bring your bike down and practice like the Olympians do. Carmarthen is a centre for many cycle routes and there are exciting plans for a 16 mile traffic free cycle pathway through the Tywi Valley to Llandeilo. Find out more about Carmarthen cycling at https://www.discovercarmarthenshire.com/explore/epic-cycling/ 
Carmarthen Park with velodrome 
5) Go climbing: The Overhang Climbing centre is located in an old church and offers climbing and bouldering for children and adults, with great reviews. https://climboverhang.com 
6) Learn about Welsh history and life: Carmarthen Museum housed in the Old Bishops Palace has recently reopened after significant refurbishment and roof repairs. This lovely small museum has some real gems inside and is a great start for learning more about local history and Welsh life. I really enjoyed wiling away a few hours there. https://www.discovercarmarthenshire.com/places/carmarthen/carmarthenshire-museum/
7) Hear some spooky stories:  Attracting rave reviews, Carmarthen Spooky tours offer a walking tour of the old town, with an array of stories and tales enroute.  They are currently taking a break but check here for news: https://www.thespookymagiccompany.co.uk/pages/creepy-carmarthen-tours.php
8) Catch a show at the Theatre Sir Gar (Lyric): Thanks to the efforts of Liz Evans, the Lyric is very much intact and offering shows, musicals and theatre to the people of Carmarthen, with a good representation of Welsh drama too. The interiors are atmospheric with retro features. Check here to see what is on: https://www.theatrausirgar.co.uk/en
Best day trips from Carmarthen 
Llansteffan Castle and Beach: Follow the river Tywi downstream from Carmarthen and you will soon get to the sea.  Perched over the estuary here and once responsible for guarding all shipping traffic here, is Lalnsteffan Castle. There is a lovely circular walk along the beach and up around the hill to the Castle. Any little ones can enjoy the beachside playground. Finish up with a pub meal at The Inn at The Sticks. 
Llansteffan Castle 
The sleepy town of Laugharne, made famous by the writer Dylan Thomas, is 20 minutes drive away. Wander along the estuary front, take a look around the castle, and visit the iconic boathouse and writing shed of the man himself. Brown's Hotel is a lovely choice to stay- enjoy the Dylan pictures and paraphernalia.  https://browns.wales
Gwili Railway: Take a scenic train ride through a verdant Welsh valley on a steam train. They frequently have special events - check out for details of what is on. https://gwili-railway.co.uk 
National Botanical Gardens of Wales: Not far away is the wonderful National Botanic Garden of Wales. Don't miss the giant glass house (rising like a alien spaceship from the surrounding green countryside), the tropical house, the walled gardens, and new woodland walks and waterfalls. The British Bird of Prey Centre is located on site (extra entry fee) - with daily bird of prey shows, handling experiences and a resident golden eagle. See https://botanicgarden.wales and https://www.britishbirdofpreycentre.co.uk   
National Botanic Garden of Wales
British Bird of Prey Centre
Where to eat in Carmarthen
Our verdict on the best restaurants and cafes are:
The Warren (Mansel Street): The award winning Warren is run with dedication, love and skill - a winning formula for this gem of an eatery. Tucked away near the centre of town, Deri Reed crowdfunded the initial opening, and community is still at the heart of the Warren. Serving local, seasonal and organic produce, amazing coffee, and five star reviews. https://www.warrenmanselst.co.uk
Y Sied: Lisa runs three fabulous establishments in town - the Y Sied Goffi on St Catherine's Walk;  a coffee and lunch spot in the S4C offices; and a cookery school in a converted barn just outside town. The coffee rocks, the décor is cool, and the food is locally sourced and delicious. https://www.ysied.co.uk
Florentinos: A Carmarthen institution, Florentinos serves beautiful and authentic Italian food from an old Welsh longhouse on Jackson's Square. During the pandemic they transformed the square with decorated gazebos and outside heaters for a true Italian outside eating experience. http://www.florentinos-italian.com
Y Polyn is an option just outside town where we tend to go for a special dinner or lunch. Enjoy the likes of salt march lamb, rare breed pork, Dinefwr venison, and local Welsh cheeses. They have a great value 'squeezed middle' set lunch menu. https://www.ypolyn.co.uk
Cofio Lounge is a really fun spot for drinks or food. It occupies the old Guildhall building right in the centre of town, dramatically done up with an array of wallpapers and lampshades. There is some alfresco dining on the square during warmer months. https://thelounges.co.uk/cofio/ 
Cofio Lounge in the old Guildhall 
So that ends our brief tour of Carmarthen. I hope this gives you some ideas. Spend a day here, scratch a little and the surface and explore the hidden finds, and you will be richly rewarded.
For our range of Welsh gifts, many of which are sourced from local makers in the Carmarthen area, see our Welsh gift range: https://welshotter.co.uk/collections/welsh-gift-ideas