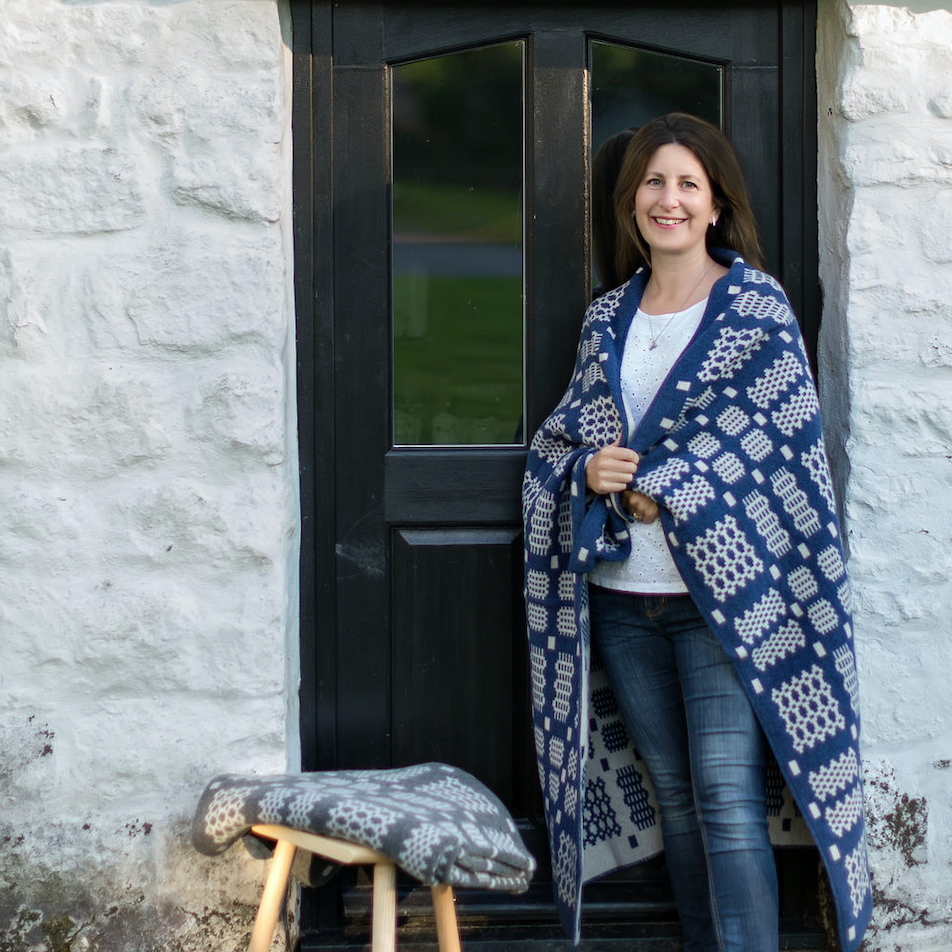 I officially launched Welsh Otter in 2018 (with the preparation beginning in early 2017) – but in many ways the inspiration and vision originated hundreds of years previously…
The story begins sometime in the mid-18th century, in the small village of Pennal perched in the foothills of the beautiful rising mountains of Eryri (Snowdonia), Wales.
Here the streams run fast, providing natural power for waterwheels, and the beautiful grazing land on the slopes of the river valley made perfect wool country.  Clues are in nearby names such as 'Pandy' (fulling mill), 'Borfa' (Grazing Place) and 'Banc y Defaid' (hillside of sheep). 
The terrain enabling the wool trade has in turn been shaped by it – an interrelationship going back hundreds of years.
The Lewis family (eight generations back in my family tree) kept a small fulling mill – an operation dedicated to the cleaning and thickening of woollen cloth, and probably the dying of it too. Cloth would have been brought in from surrounding farms and homes where weaving and spinning was carried out by families in their front rooms and in farms, and processed centrally at the pandy.
Image source: https://rcahmw.gov.uk/
Fulling back in the 1700s would have been a difficult job - the antithesis of glamour. Wool was washed by repeated 'stamping' in a trough of water, likely using a water powered machine.  It would then have been dried and stretched in an open air field nearby using a large frame (a process known as 'tentering' - the tenter hooks being the fixings used to hold the cloth in place). Dying would have made use of local natural materials such as mulberry (for yellow or olive), heather (for browny-yellow), litchens (for green), sloe (for a rose colour) and gorse (for yellow), amongst others.  It was likely a skilled process that required specific expertise.
Cloth was then either taken overland over rough tracks by cart to market towns like Shrewsbury, purchased by merchants acting as middlemen, or taken by sea from the ports on the West coast of Wales.
It was hard work. Likely quite relentless. Did they make any money? Did they have enough to live on? Did they have to juggle the wool work with other jobs like keeping the farm or smallholding?
Image source: https://museum.wales/
I like to think that behind the graft, long hours and sweat, they also took pride in the final product that they created; that was of such importance to their livelihoods and also with an essential practical use.  Did they experiment with pattern, colour and dye?  Did they pay attention to the fashions and trends of the day?  Did they select designs for their aesthetic as well as for just their functionality?
I guess without being able to go back in time, I will never know – but I would like to think so. 
Fast forward to 2017 – I had the wool bug.  The more I read and learnt the more I became fascinated with the development of the woollen industry and all that it represented.  Visits to the National Wool Museum, and also St Fagan's ensued.  I read and visited the traditional mills such as Rock Mill, Solva, and Elvet. I learnt about how Vikings used wool for their sails and how, in the medieval ages, woollen cloth from Wales and England was the envy of the world.
I fell in love with the history, process and everything weaving represented – the clunk of the looms, the flying shuttle (or 'swallow' - 'gwennol' as it is called in the mills), the unique, wonderful smell of lanolin mixed with oil; the colours, the textures, and just the general 'sheepiness'. The fact that wool is the ultimate sustainable material – a sheep renews its fleece every year, which is a fantastic carbon store. When woven, woollen cloth lasts and lasts, and finally at the end of its life it simply and politely biodegrades naturally. My google history reads like a dictionary of textiles: 'Nettle Yarn'; 'Warping'; 'Jacquard Designs', 'Sustainable Weaving'.
But I also became sharply aware of the limitations and challenges for the industry in Wales. Whilst beautiful; there can be a reputation of scratchiness and roughness associated with some of the traditional blankets. Over the last 100 years, one after one of the owners of the once numerous mills have retired with no succession plan in place – forcing closure and equipment sold off (the number of woollen mills in Wales falling from 151 in 1922, to less than 10 in 2022). One issue is that much of the traditional machinery dates from the 1940s and upkeep can be difficult with parts hard to find. And of course there is the sourcing and consistent supply of good quality yarns to suit the modern taste.
But despite these obvious challenges; patterns, textures, designs and ideas bounced around my mind like an lively spring lamb.  
What if we could produce woollen textiles that are traditional but truly soft and cosy? 
What if we could experiment not only with wool but also innovative recycled yarns? 
What if we could create brighter, bolder, beautiful designs that work in the modern home and stand up to today's expectations?
And so, coming full circle, (just like the mill wheel), I find myself with a textiles business.  We now design and create wonderful, soft and huggable blankets and other house cosying textiles. We sell online and across the World, working with artisan and family run mills in Wales and the UK.
I like to think that if I can support the continuation of the industry in just a small way, taking the baton from the Lewis's and others like them; it will be worth it.