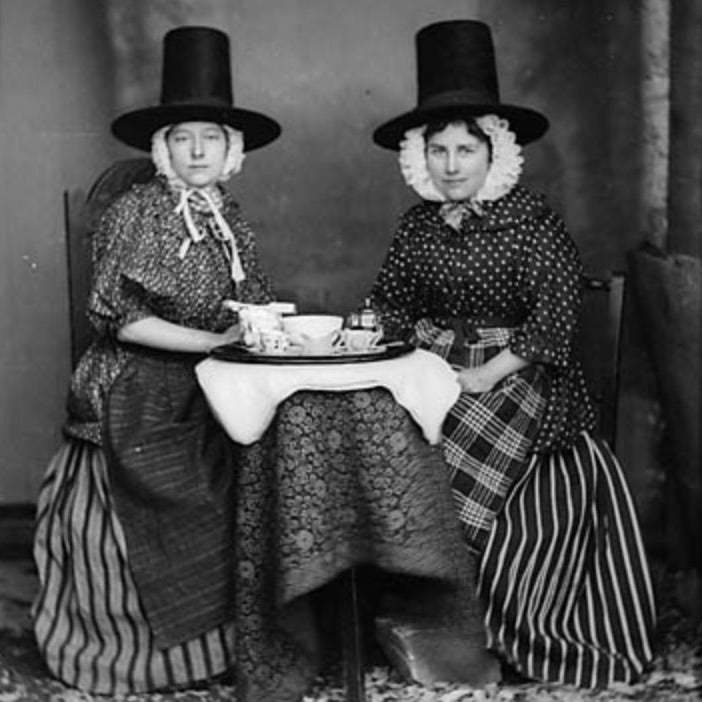 On St David's Day in Wales, the tradition is for school children to come to school in the traditional Welsh costume of flannel, hats and of course the daffodil.  
But what are the origins of the Welsh National dress (in Welsh, Gwisg Gymreig draddodiadol)? How has the so-called traditional 'Welsh Lady' evolved? We did some research to find out!

     'Market Day in Wales' 1851, after R. Griffiths (National Museum of Wales)
Did you know that Wales is one of the only places in the UK that can claim to have a national costume?  The origins of it stem from the 1750 to 1875 timeframe, with roots as a simple rural working dress.  It was largely influenced by the local flannel; a light wool fabric often woven in bright contrasting colour (reds, greens, yellows and black), in stripes and checks (pais fetel), which made it very distinctive to what was produced in England at the time.  
                Examples of flannel, from Ann Sutton Textiles.
In the nineteenth century 'crimsi' was in great vogue - a pais grimsi - crimsey skirt or petticoat - being considered the height of fashion, the cloth being cut so that the crimson stripes were vertical.  Women would often cut away the skirt to leave this patterned petticoat on show, with a large functional apron on top, and a check woollen shawl fitted around the neck.  If going to town, market or chapel, the tall beaver hat would come out and be placed on top of the head cloth or bonnet. This was unlikely to have been made of beaver - more likely felt. 

One of my favourite stories concerning the Welsh costume is that of the last invasion of the UK.  In February 1797 a force of 1,400 French troops landed near Fishguard, and laid siege to a farmhouse about a mile inland. The French quickly surrendered however when they saw an army of redcoat soldiers approaching on the horizon.  What they didn't realise at the time, was that this 'army' actually consistent of local women in their red flannel and tall hats, lead by Jemima Nicolas and her pitchfork! A tapestry was created depicting the event, which can be viewed in Fishguard. 
Weaving in traditional dress and beaver hat - (National Museum of Wales)
I have had many customers come into the shop who remember the nursing shawl, and I am sure some are still used today! This was typically a large square shawl with fringes on all sides, made of lighted coloured cloth. It was used to hold a baby close to the body, freeing the hands to complete chores - very handy! 
The everyday dress was eventually embraced as an iconic Welsh costume, much under the influence of Lady Llanover (Llanover, Abergavenny), who observed different varieties of this outfit in different parts of Wales, and submitted an essay on the topic to the Royal Eisteddfod of 1834.  She encouraged the making of different types of flannel, cloaks and beaver hats, and ran competitions of the best collection.
In the 19th Century, as tourism to Wales took off -  visitors delighted in poses of ladies in traditional costume against scenic backdrops, and many were produced as postcards.  In these pictures, without a doubt the national costume became more picturesque and exaggerated with lots of frilly additions like lace and paisley!
 
Today the custom continues with children all over Wales going to school in traditional dress every St David's Day (traditional flannel is still produced in some of the mills, but you can also buy reproductions in Tesco on the run up to the 1st March!). 

It is fascinating to hear about a costume with such humble and genuine origins, but, like with most traditions and customs, one that has changed and evolved (with arguably much exaggeration and perhaps even manipulation!) over the years to suit the trends and zeitgeists of the day. But isn't this the quirky way of history. I don't think this takes away my love of it, and its certainly a very special and much loved asset for Wales.