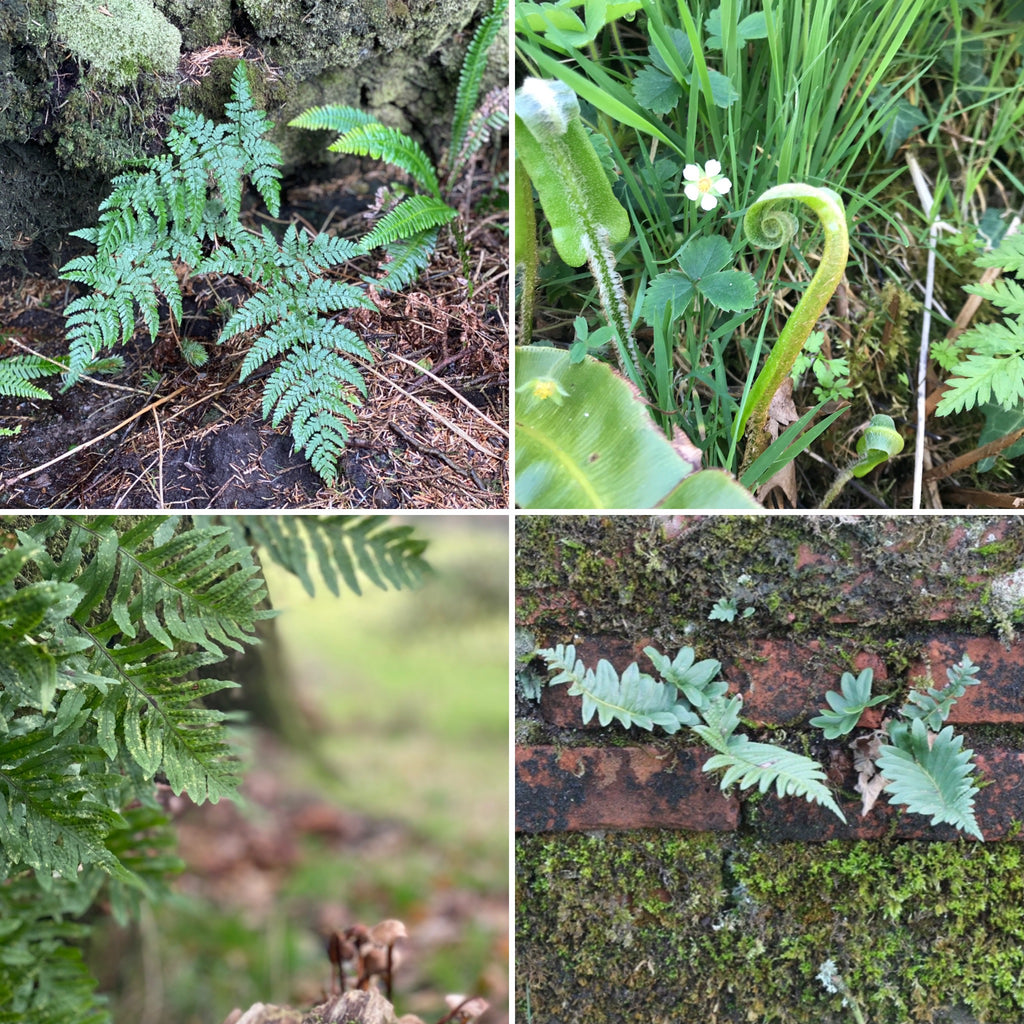 Luscious and ancient, ferns are pre-historic and architectural looking - overcoming adversity to grow in all manner of difficult and surprising places. 
Wales could be considered the home of the fern, growing as they do so abundantly here. They can be found in damp woodland corners, floating high on the boughs of gnarly oak trees, and curled up in spring hedgerows. In fact, up to 38 species can be found here. They optimise the Welsh landscape. In the words of Jan Morris, the scents of the Welsh mountains are "turf and bracken, water and wind".
Here's a few reasons why we think ferns are wonderful:
In the depths of winter, they are one of the few plants bringing some greenery to the landscape, as, (with the exception of bracken), they can grow all year around.
They can absorb heavy metals from the air and soil, and can be used to clean up polluted areas.

 

Some types of ferns only grow on other plants. They collect water from the damp air or from rainfall.

 

They are a great plant to fill forgotten, dark damp corners of a garden (where often nothing else will grow).
They are living fossils - they have been around for millions of years - in fact some that you might see on your daily walk have changed little in 180 million years.
They symbolise some pretty cool things - in New Zealand, they represent new life and new beginnings.

 

In Japan, they symbolise family and hope for future generations. According to Victorians - the fern meant humility and sincerity.
In Feng Shui, some types of indoor fern are one of the few plants classed as 'good luck' plants.
Some rainforest species of fern, can only be found in North Wales.
They are on trend! Once just the preserve of Victorian fern fanatics, they are now gracing gardening and interiors magazines again, thanks partly to an interest in architectural plants.
To see a fantastic variety of ferns - check out the fabulous Temperate (or Celtic) rainforests in North Wales - these lush conditions are perfect for scarce plants, lichens and ferns - Coed Felenrhyd is a wonderful example and a must visit in Snowdonia.