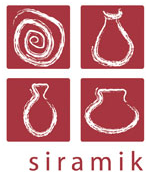 Siramik was founded by Yoka, who produces individually designed, hand thrown and decorated tableware ceramics in a variety of colours and designs. She works from her stunningly located studio which is perched high on the Carmarthenshire hills, bordering the Brechfa Forest.
She also offers fantastic potter's wheel pottery courses from her studio (half day, one day or weekend courses).
What is the story behind your craft? 
Clay with all its workings, flexibility and possibilities of bringing people young and old together is and has always been of a great interest to me. At a very early stage in my life I was drawn to working with this medium and in discovering the delight of creating on the potter's wheel, I had found my destination.  I work in earthenware clay, white and red, decorate with slips, under glazes, carve in the clay and colour the clay.
When the pot comes off the potter's wheel it directs me to how it wants to be decorated and I listen to that communication.  I like making pots that are practical and useable and produce mostly domestic ware.  Pots that will be enjoyed, handled, touched and lived with.  I also produce larger pots for special occasions.
The way I decorate my ceramics is a constant development and I discover new ways all the time.  At present the carving of the slips on the base clay is very much a signature style.  Delicate colours and shades I decorate with as well as bold colours like red and indigo blue. Working with underglazes produces the much liked daffodil design and poppy design.
What inspires you…..?
People and their interests in clay are also a constant source for development for me and my role as a potter and pottery teacher to share the delight of creating pots on the wheel, is very important to me.
What does Wales mean to you....?
Wales, with its warm hearted and welcoming people, jumped into my heart straight away when I can to visit from away. The hills, openness of the countryside and the beautiful views won me over almost immediately.
Your favourite place in Wales……?
The great coastline - and my secret hiding place in Parrog near Newport Pembrokeshire, I feel well and truly at home.