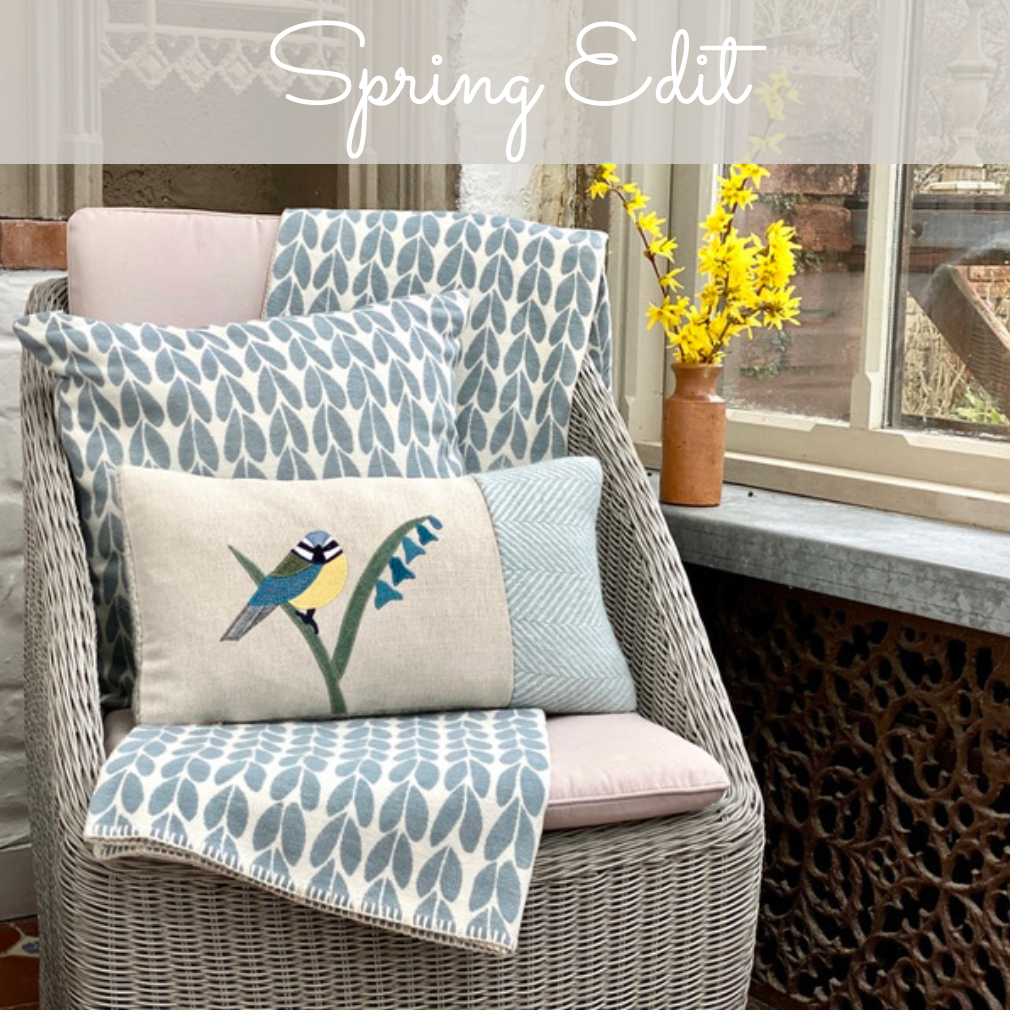 Seven simple ways to bring the best of the season into your home and garden
Can you feel it in the air? The clocks have gone forward, the tulips and daffodils are in full bloom and there is birdsong echoing through the trees – spring is here! With the days getting longer and (dare we say it) warmer, the sun is peeking in through the windows, but how can we bring spring into our home? Here we will share a few of our favourite new season pieces to really brighten up your home with a little piece of the Welsh Spring …
1.  Indulge in your favourite seasonal scents
Bring the scent of the spring inside with candles and diffusers. Evenings can still be dark so a gentle glow from a candle is still very welcome. Try our ceramic scented range - hand thrown in South Wales before being glazed and filled with either scented wax (for the candle) or fragrance oil (for the diffuser)
Our 'Spring Time' scent captures the fresh scent of the new season with a blend of cut greens, daffodils and other wildflowers. It will whisk you away to thoughts of spring life blooming all around.
2.  Ferns unfurling
Our beautiful hand drawn fern print is designed by us in Carmarthenshire, South Wales. Available as a cushion or lampshade.
Ferns are one of our favourite plants. Wales is the home of the fern, where they can be found in damp woodland corners, floating on high on the boughs of gnarled oak trees, and curled up in spring hedgerows. In fact, up to 38 species can be found here. Ferns represent new life, new beginnings and sincerity in many cultures - perfect for spring. In Feng Shui, some types of indoor fern are one of the few plants classed as 'good luck' plants.
3.  Inject some florals
Our handmade soap dish and soap gift box is inspired by the iconic flower of Wales - the daffodil.
The box makes a thoughtful, unique gift and is a perfect treat for a bit of pampering, or for sharing some well-needed cheer from Wales. 
4.  Add a splash of blossom pink
Our beautiful super soft throw in pure merino wool, is really cosy and incredibly tactile!  We took our merino throws to the Llandeilo Festival of the Senses and customer feedback was amazing - 'so so soft' was the overwhelming feedback.
The fabulous chevron pattern incorporates soft pink and white to give a breath of warmth and style to your home. It would work well to brighten up a neutral colour scheme, or mixed with other patterns for an eclectic look!
Being 100% super soft merino wool, this blanket is perfect for those cooler spring evenings.
5.  Embrace nature prints
The Iconic Puffin Cushion

Did you know that puffins arrive in spring? This beautiful cushion features a friendly puffin on a rock - iconic visitors to Pembrokeshire shores every spring. Our cushions are carefully made in Solva, Pembrokeshire, using appliqué techniques and making use of local woollen fabrics (both new and vintage).
Bluebells and bluetits
This beautiful cushion features a striking blue tit sitting on a bluebell, made with soft yellow and blue fabrics. Our cushions are carefully made in Solva, Pembrokeshire, using appliqué techniques and making use of local woollen fabrics (both new and vintage).
The Timeless Leaf Cushion and Throw 
This beautiful and luxurious organic cotton cushion and throw in duck egg and white, features a striking 'deilen' (leaf) design.
The subtle blend of neutral shades will look great on a sofa, bed or chair to complement any colour scheme. It's lighter weight makes it ideal for use in the spring and summer months.
6.  Enjoy the GREAT outdoors! 
We are all pretty fed up of being cooped up indoors, so even though we can't go too far, we've still got to make the most of what we can do! So be sure to picnic in style with our waterproof rug in a stylish green leaf  or grey geometric star design. Perfect for use in parks, the beach or in the garden - and making full use of the warmer weather. 
7.  Don't forget to wrap up
Spring is beautiful but it can be unexpectedly chilly at times! These beautifully soft ponchos are the perfect accessory to wear in all weathers – take one to keep you warm on a beach walk or throw it on later for a drink at the pub! This completely unique piece of knitwear will give you warmth and style, perfect for a treat to yourself or as a gift to someone special.
Made from the highest quality merino lambswool yarns it is beautifully soft and smooth to touch.
Soft Pink Poncho - Coming Soon