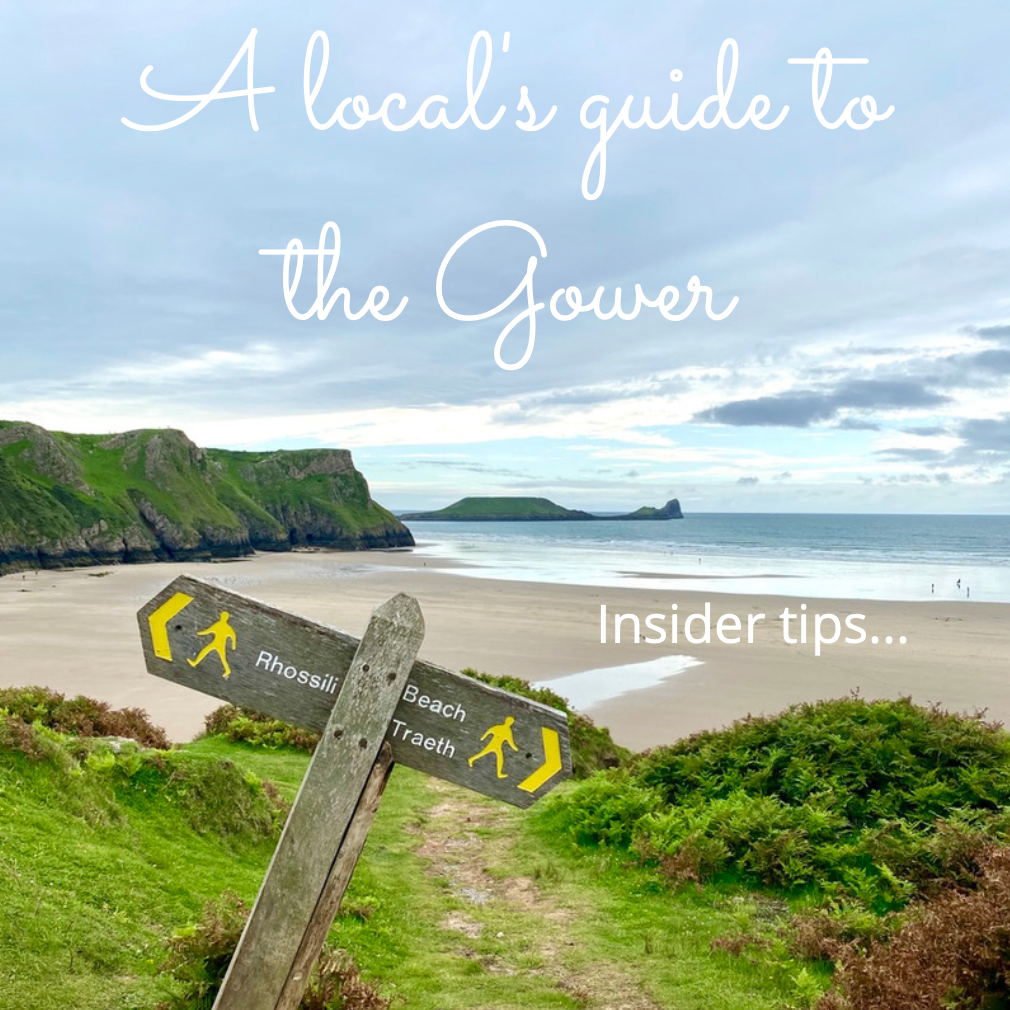 The Gower - or 'Gŵyr' as it is known in Welsh, is a narrow peninsula in south west Wales, with one of the best coastlines in the UK, if not the world. 
The Gower was named as the UK's first ever official 'Area of Outstanding Natural Beauty' in 1956. And it isn't hard to see why! Admired for its sprawling beaches, wide open farmland and cosy country pubs, it is a ruggedly romantic destination for anyone needing to get out in the great outdoors.
Being historically relatively cut off from the Welsh hinterland, but with coastal links across south Wales and the West Country, the region developed a distinct dialect - our favourite words including 'gambo' (cart), 'herring-gutted' (lean or skinny), and 'bumbagus' (the bittern bird). 
But where to go, stay and what to do?  And if time is tight, what are the must sees? We have spoken to a local resident who is lucky enough to call the Gower her home. Here she shares her personal favourites and insider advice on where to visit, eat, drink and stay:
1) Oxwich Bay ~ Our ultimate location for a family-friendly day out
With its thatched cottages, old school house and 6th century church, arriving in the small village of Oxwich is like arriving at a very different point in history. Not to mention, the gorgeous 2.5-mile sandy beach itself is breathtaking.
Fringed by the reed fields and nature-filled woodlands of Oxwich Nature Reserve, which is known for its thriving wildlife, this two-and-a-half mile stretch of golden sands and tumbling dunes is a long-time favourite.
Generally speaking the water is flat and calm here throughout the summer, making it ideal for swimming, paddle boarding or kayaking. There's a big blue hut in the car park 'Oxwich Watersports', where you can hire many forms of water-based craft, including jetskis!
Where to eat & drink in Oxwich: Oxwich Bay Hotel has great pub grub (try the Gower lamb pizza – it's to die for)! Sit in the beer garden with a chilled glass of white wine and take in the views over the beach. There are also a couple of small cafe/take-out style places, although the star attraction is definitely the Michelin-starred Beach House restaurant, which we highly recommend (they don't let you wear flipflops in there though)!
Where to park near Oxwich Bay: Oxwich car park is located right on the beach, making it ideal for people who don't want to walk too far. It costs £5 to park a car all day.
Oxwich Bay accommodation: The Oxwich Bay Hotel is located right on the beach and is arguably one of the best hotels on the Gower peninsula – they also have static caravans to let. We would also recommend the Bay View apartments and/or letting one of the other beautiful holiday cottages in the village. Not far from here you will also find Greenways Holiday Park, which is a great place to camp in a tent, caravan/tourer or static caravan with the kids.
2) Rhossili Bay ~ Surf & seal spotting at one of UNESCO's Best Beaches
With its cliffside walks and sweeping elevated views, Rhossili Bay is arguably the most dramatically beautiful beach on the Gower peninsula. It's also been voted as one of TripAdvisor's Top 10 global beaches, so it's also the most famous beach on the Gower. 
Stroll with the wild horses to the craggy long outcrop of Worm's Head and keep your eyes peeled for seals and dolphins dancing in the waves below. Clamber down the steps to the main beach and set up base on the broad stretch of sand, or take to the water and surf the beginner-friendly waves.
It's difficult to pick just one, but if you're visiting the Gower peninsula for just a day or two and only have time to visit one beach, Rhossili might be your safest bet.
Tip: Depending on the time of year you might be lucky enough to see the beautiful sunflower fields, run by the Gower Christmas Tree Farm. You can pay to pick your own sunflowers to take home. Check out their Instagram page to see the full range of seasonal activities which they organise across the Gower.
Where to eat & drink near Rhossili: You're spoilt for choice in Rhossili. Check out the beautiful Bay Bistro for everything from healthy brunches and coffee & cake to hearty evening meals and local ales – the views over Rhossili and Llangennith from the rear terrace are insane. A burger and a pint at the Worm's Head Hotel makes for the perfect sundowner, while The Lookout is a fantastic spot for locally-made ice-cream, coffee, pastries, cake and pizza at anytime of day.
Where to park near Rhossili: The National Trust owns and operates Rhossili carpark, which is conveniently located for both the beach and headland walk. You can pay by the hour, although it's free for National Trust members. There are public toilets too.
Accommodation near Rhossili: We can't think of a better place to stay on the Gower than the 3-star Worm's Head Hotel. Epic views and an ideal location from which to explore the peninsula. You'll also find plenty of charming holiday homes for let, including Little Hill Cottage and Broad Park. Gower Holiday Village is also a great option for families.
3) Three Cliffs Bay ~ Adventure is Calling …
If we had to pick our favourite beach on the Gower peninsula, Three Cliffs Bay would certainly be a strong contender. There's something about its remoteness, its layers of delights: winding rivers, castle-crowned dunes, perfect sands and, of course, its iconic cliffs. Again, Three Cliffs isn't merely a beach. No, it's a call to adventure, a place you have to hike through forests to get to, wade through streams to arrive at.
A day out at Three Cliffs is very much about the journey.
Tip: Surprisingly they have lifeguards here in summer, so Three Cliffs is a great spot for family days out. 
Where to eat & drink near Three Cliffs Bay: Shepherds is something of a Gower landmark. It's basically an old convenience store / post office where you can buy ice-cream, snacks and drinks to take with you to the beach. There's also a great pub not far from here call the Gower Inn – the perfect spot for a drink after a day at Three Cliffs.
Where to park near Three Cliffs Bay: Shepherds also has a carpark where you can pay £3 for the day. You pay inside at the counter.
Accommodation near Three Cliffs Bay: Parc-Le-Breos is a grand 4-star country house/hotel nestled among a rambling Norman deer park. Our Gower expert has nothing but excellent things to say about their afternoon tea! Shepherds also has a few holiday lets. The sensational 5-bedroom Maes Yr Haf holiday house/mansion, complete with hot tub, bar and state-of-the-art kitchen, would be ideal for large families or groups looking for a truly deluxe Gower holiday. All five rooms are doubles and have en-suite bathrooms.
4) Gower Heritage Centre:
We would highly recommend a visit to the Gower Heritage Centre, a rural-life museum based around a working 12th century watermill. 
It hosts a vibrant community for crafts - you can learn about the history and culture of Gower and get hands on with activities like bread-making and pottery classes. The little bakery there is incredible! There is an old-fashioned games arcade, as well as a sandpit area, adventure playground, play areas, animal farm and Wales' smallest cinema, La Charrette. 
It is a short journey from Three Cliffs Bay, so is something that can be done together on a day out.
Best coffee in town award:
Mumbles is one of the most visited towns on the Gower, but it has some beautiful shops, especially The Oyster Gallery, if you have the time for a wander. However, our award for the best coffee in town can be found in an old purple VW camper van, which has been converted into a coffee cart. This little cart, 'Bibby's Beans' makes an incredible coffee (at a very reasonable price) – their milkshakes are amazing too!
Photo: https://www.instagram.com/bibbysbeans/
Best ice-cream in town award
Well, the Verdi's or Joe's debate is one which has been going on between Mumbles  locals for years – and who are we to call it? Tell you what, try both and decide for yourself!
We could go on and on, there are so many incredible places on the Gower, all with so much to offer. We didn't even have time to tell you about surfing at Caswell bay or the legendary Langland …
The Gower is so much more than a place, it's a way of life, come and experience it for yourself!
Read our other guides to Wales: